A Guide To Self Care
Wednesday, March 11, 2020
It is not uncommon for selfcare to slip our minds right up until we have hit a wall. Selfcare varies from person to person, what works for you might not work for others. Selfcare can be directed toward our Mental, physical and emotional health and wellbeing. I do believe in a professional and a personal setting that proactive steps are vital for managing stress and possibly anxiety. This blog will touch on different aspects of the disability sector where selfcare is vital.
As a NDIS Support Coordinator I have had first class experience of neglecting my selfcare and then learning from the affects that it is not only beneficial for myself but also my clients, as they  will get the best service from me when I better look after myself. Businesses have some responsibility regarding selfcare within the disability sector also, this can be as small as case conferencing with a colleague, essentially sharing load and thinking out load can lighten a load when sometimes you hit a mental block. Managerial roles will have the responsibility of supervision, observation and checking in on their staff when they feel they might have lot going on. Ensuring an employee is not over worked or overloaded can be the managerial responsibility but also the individual yourself. It is best to know your limits and also know it is ok to no, or to ask for a break. Also knowing what services there are out there for you, for example EAP "Employee assistance programme" would again be your employer's role to let you know it is available but up to ourselves to pick up the phone and make the call.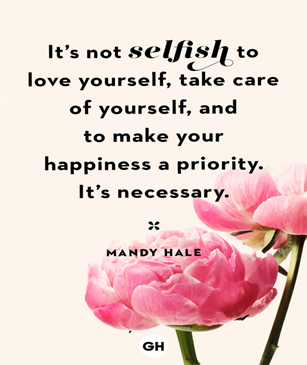 From my experience as both a disability support worker and a support coordinator I have come across so many carer's that are at risk of burning out or simply have. I also understand how easy it is to over look sign of burn out and to just do it yourself instead of asking for help, but in the long run it does not help anyone. My advice would be to utilise any supports that may be available to you, for example getting a support coordinator or advocate on board to ensure you are utilising NDIS funding adequately. They can budget in respite, and/or training for more staff, and support with NDIS dealing that just may be that one push over the edge. Again, a carer must have some self-knowledge and insight to what will be too much and be able to reach out and ask for that support.
For an individual with a disability selfcare is extremely important and multidimension also. Again from my experience on the floor I have seen first-hand burnout from my clients. Some people looking on the outside might not see the difficulty an individual would have adapting to their individual selfcare. For example, a young woman with Cerebral palsy, herself care management might include rotating the roster of carers to ensure the personal care providers are the ones she feels the most comfortable with. It could be reaching out to other providers to get a break from the usual carers. I have also seen a client over exhaust themselves in activities to make a carer happy. It could be assuring all assistive technology is cleaned thoroughly and charged accordingly- this could relieve anxiety and stress triggers. Again for those able is it also knowing within yourself when to say no and just take more breaks because that is ok too.
Evidently every single person on this planet needs some sort of self care routine that is applicable to them and their needs, maybe you just have not found yours yet. I have put together a small list that may work for some, close your eyes pick one, it won't hurt but it might help. (H3)
Nutrition

 – What we eat and drink has a huge impact on your daily, as we all what we are not eating. Ensuring you are eating enough for your routine and body. Allowing as much nutrients as possible and staying hydrated has a huge impact on not just our physical body but also your mental health. For example, I have reflectively realised if I have more than 2 coffees per day I can become quite anxious and stressed.
Exercise

 – It can be high intensity, it can be stretching, it can be a walk-in nature, whatever is adaptable and attractive to you. Any way to let them endorphins in and possible loosen that stress. There are many options out there and adaptable individually get out there look and try something new.
Be kind to yourself

 – This goes in tail with pressure, we all have been guilty of putting an expectation on ourselves and when sometimes we don't fulfil our expectations we put ourselves down. This negative mind set can be hard to overcome, but I  do believe the saying "Talk to yourself as you would talk to someone you love" – Brene brown
It is ok to not be ok

- Ask for help, whether it is to someone you know or a outside provider which can be easier for some people, just ask. It can be hard to become vulnerable is some instances but this can be the difference of a bad day to a week or a month. This could be also saying no, not pushing your limits knowing it is ok to say no sometimes and delegating some task so share the load.
Restore yourself-

 This could be a nice long bath, a massage, a facial or just sitting on the couch watching your favourite movies for the day. Sometimes we need a breath, we need to recoup and this is my favourite way to get back to feeling myself. It can be trying a new skill or hobby.